My sincerest thanks to all of you for contributing to my family history.
There are still lots of gaps and errors which should correct with time. I shall appreciate very much if you would please contact me with any corrections and new information.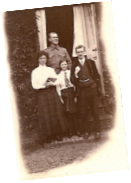 Welcome
to
Khan's Kin Folk
My Family History Web-Site
When I embarked on the search of my ancestral relics, I thought I had a fairly good idea of my own identity. Having spent many years in researching my family history discovering many interesting characters along the way, I am now confident that any preconceptions I had about my own genes have since, and without any regret, been safely laid to rest. This continues to be a leveling journey for me. Along the way I have discovered that in addition to my English and Indian Sub-Continent Pashtun background I also have Scottish, German, Russian genes, not to mention links to Old Jerusalem. The best part of this journey has undoubtedly been the discovery of new living relatives.
In common with all family history projects, this is and will always remain a work in progress until such time that I am able to join all my various family branches to Adam and Eve, a rather unlikely scenario you will agree and certainly not achievable in my lifetime. 
How to use this Web-site
The main part of this web site is the Family Name Index page which was created using iFamily for Mac, kindly gifted to me by Keith Wilson, who sadly is no longer with us. Clicking on one of the names on that page will take you to the section where you will find all the members with that family name.  Clicking on a name will take you to the page for that person. It contains a fully navigational multiple generation chart, photos where applicable and a table of events and citations of sources. Any other pieces of information or stories that I have come across during my research for that family member is also included on the page. For reasons of security and privacy, you will not be able to see any names for living members of my family.
Chances are that you are here because either you are a family member, or you are yourself a researcher. Whatever your reason for being here, I hope you enjoy the web site and find what you are looking for. Good luck in your research!